Email marketing is an important part of increasing customer engagement. In fact, it's one tactic that contributes to the success of high-performing wineries: those with the greatest amount of online sales have an average email list that is four time larger than the rest.
Since email is still the number one method for increasing conversions - it's 40 times more effective than both Facebook and Twitter - you want a large, healthy number of email list subscribers to build a successful email marketing strategy. Here's how you can get started:
Collect emails in your tasting room
Your tasting room provides great opportunity for you to capture customer emails. Your visitors just enjoyed a pleasant sampling experience, drinking wine and having fun, and they want to extend that feeling by remaining connected with your winery. Email is the best way to do so, with 72 percent of adults preferring this channel to all others.
After touring your facilities and sampling your wine, customers who want to get more engaged with your winery should be able to add their email address to your list right then and there. Having kiosks in your tasting room makes it easy for customers to sign up and serves as a great way to build and maintain excitement about your business. The kiosk automatically syncs data to your point of sale system and updates your email marketing list, then instantly sends a welcome message ready to greet customers the next time they open their inbox.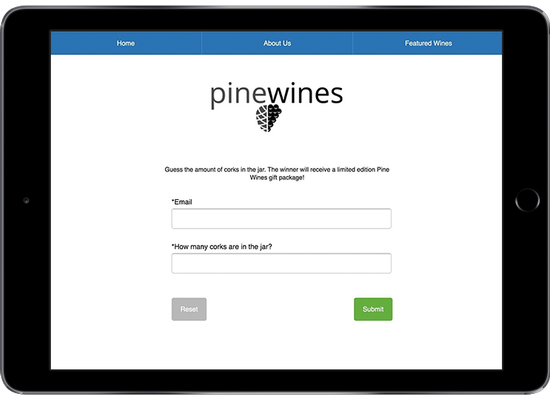 You can also have your staff collect customer emails as they check out. For a little extra incentive, give your employees a reward for every address they record.
Give your customers a few perks
Sometimes a little incentive goes a long way. Consider giving your visitors perks when they give you their email address. This could include offers like discounts, exclusive content, limited-edition products and more. You can introduce these incentives on specific pages of your winery's website. For example, a form or call-to-action on your About page could read, "Sign up for our mailing list and get 15 percent off your next order!"
Use custom sign-up forms
Custom sign-up forms help your winery stand out from the get-go. Instead of simply asking for an email address, you can ask for a customer's birthday, whether they prefer varietals or blends, lean toward red or white, or any other criteria of your choosing.
Collecting this information helps you create targeted email lists and personalized messages. You can contact these customers on their birthday, for instance, with suggestions of wines that match their tastes. Custom email list sign-up forms also give you valuable marketing data so you can compare preferences among your customers. You can then use this information in future online campaigns.
Building a substantial, targeted email list is just the first step in your online marketing journey. Once you have this list established, you can segment it based on customer loyalty, demographics and interests, then determine how frequently to send marketing materials.