Whether you're ready for it or not, October, November and December (OND) is rapidly approaching. It's a good time for wineries to start planning and executing marketing campaigns on their websites.
Both Black Friday and Cyber Monday mark the start of the holiday shopping season for millions of shoppers online. Here are 5 great ways to get your website ready for the holidays:

1) Create A Shipping Calendar
Statistically, I'm not the only consumer out there that puts off Christmas shopping until the last minute and with online purchases consumers need to be reminded of shipping times so the present makes it under the tree by Christmas morning.
If I buy wine from you will it make it to my house for Christmas, New Years, or later?
Offer a clear/simple shipping calendar throughout your website to make it easy for consumers (like me) to know if we're going to make the deadline. There are some key areas on your site to place the calendar such as the header in the product list page and detail pages, as well as the cart and the checkout screens.

The example above from American Eagle quickly shows key dates to order before to get that gift under the tree by the 24th.
I've been both the giver and recipient of gifts that have arrived late and neither are fun. Work with your shipper to make a calendar that's simple so your consumers know the cut off dates.
2) Curate & Make a Gift Guide
It's all about giving gifts during the holiday season and you want to make it as easy as possible for consumers to pick out something from your store. Your purchasers might be buying for their parents, a co-worker, or a friend, and might not know their taste in wine, so it's your job to make it easy for them.
Use tools like product badges/callouts (like the one below), highlighting consumer ratings and reviews, or create pre-made packages to remove the guessing from the purchase.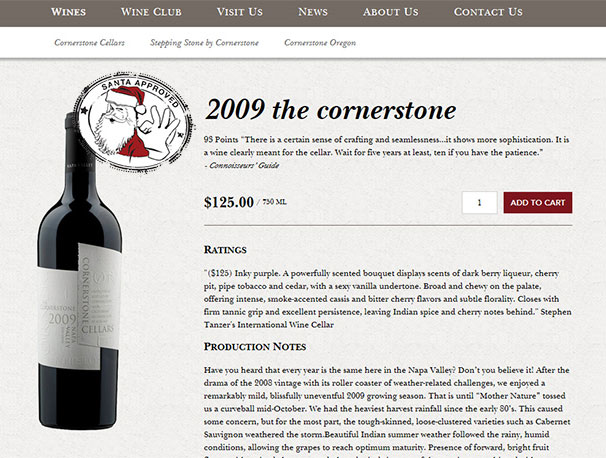 Amazon does this really well, shown in the image below, by suggesting different categories or gift ideas for each type of person you'll be buying for.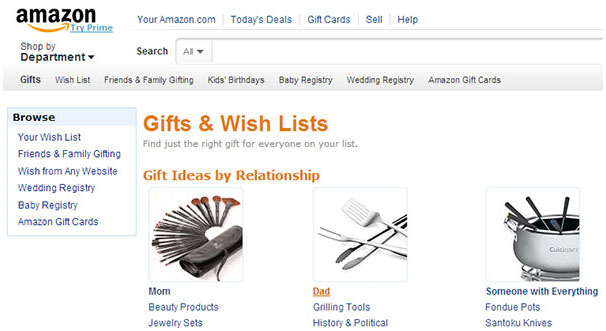 3) Black Friday / Cyber Monday Promotions
During the holidays consumers expect to see some type of sale and this is especially true on Black Friday and Cyber Monday. If you don't offer a sale it is like telling your customers to go buy somewhere else.
Some examples of successful promotions are shipping discounts, or volume incentives. At this point, consumers expect free shipping for orders over $100 (technically 'shipping included' in the wine industry).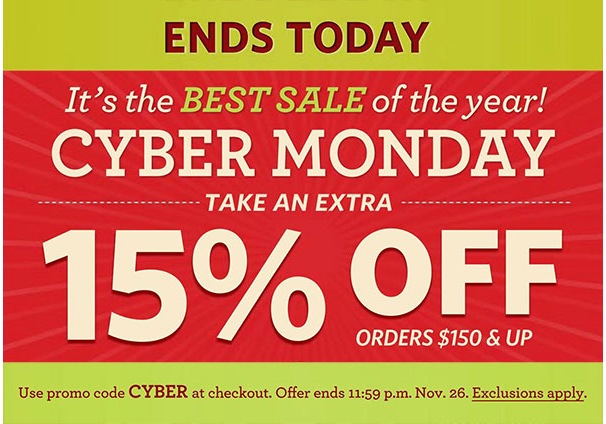 Start emailing your consumers early to let them know when the promotions will be running and give them something to anticipate on your site. We see some bigger ecommerce sites sending holiday emails for promotions but not letting the consumer know that the actual promo will not be in effect until a specific day. This gives them something to look forward to and a reason to visit the website rather than reading and discarding the email.
4) Plan Ahead - Schedule Your Emails
Create your emails and offers ahead of time and schedule to send them at specific times. Think about the key days your winery should be ready for (don't leave it to the day before Black Friday). Below is a breakdown of the months leading up to the holidays with key dates and great ideas for email blasts:
October
Key Dates:

14th - Plan your Halloween marketing.
31st - Halloween. Start to ramp up holiday messaging.

Common Email Themes:

Shop pre-holiday items
Pre-order holiday's hottest items
Preview the holiday collections
Sign up for holiday savings
November
Key Dates:

1st - Plan your Thanksgiving/Black Friday deals and marketing.
29th - Black Friday

Common Email Themes:

Pre-Black Friday deals
Specialized gift guides
Free/Included shipping
Holiday gift tips
December
Key Dates:

2nd - Cyber Monday
6th - Start a '12 Days of Christmas' campaign
23rd - eGift cards only
26th - After Christmas sale

Common Email Themes:

Last minute gifts
Order-by deadlines
Season's greetings
After Christmas promotions
January
Key Dates:

1st - Happy New Year messaging.
6th - Take down any holiday images

Common Email Themes:

Redeem your gift cards
Self gifts (get what you really wanted)

5) Have Some Fun!
Don't take yourself, or your website, so seriously. Have fun with the holiday on your website and emails. Throw in a Santa hat, elf, reindeer, etc. somewhere on your site or add in a snowflake or two. This shows that your company has personality and that your website actually gets updated (so it's not the same website all year round).
Both Target and Amazon add holiday imagery to their sites and logos every year. Below is an example of Bath & Body Works' website during the Christmas season which shows holiday imagery throughout the site.
If you've tried any other holiday tricks or campaigns, or if you've seen a great example let us know how they've worked.