It's nice to get a little public shout out for all the hard work that you put into making your wine. While media reviews and PR articles are awesome at getting some attention, you want the very people trying and buying your wine to be talking publicly about it. And for good reason, according to iPerceptions, 63% of customers are more likely to make a purchase from a site that has product reviews.
There are many great reasons why you should include reviews on your site, but how can you get customers to actually physically click like buttons and type a wine review on your site?

Here are a few ideas.
1. Post-Purchase Email
Action email (trigger based email) is a great, automatic method to follow-up after purchase. In the email, politely ask customers to write a review and include the link to where they can review the wine, like this Old Navy example below.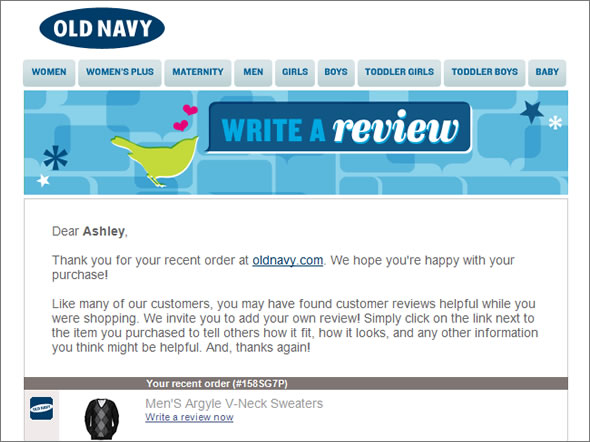 2. Offer an Incentive
In the follow up email, offer some sort of incentive if they write a review. You don't want to come across that you're bribing your customers for their endorsement, so instead of offering a discount on related products, consider an entry to win a prize, gift card or event tickets.
3. Social Networking Widgets
Monkey see monkey do - everyone is a follower and nobody likes to be the first to review something. If you include social networking widgets such as the Facebook like count on your list page, customers can easily see the popularity of your wine and be more inclined to write a review as seen here on winesthatrock.com.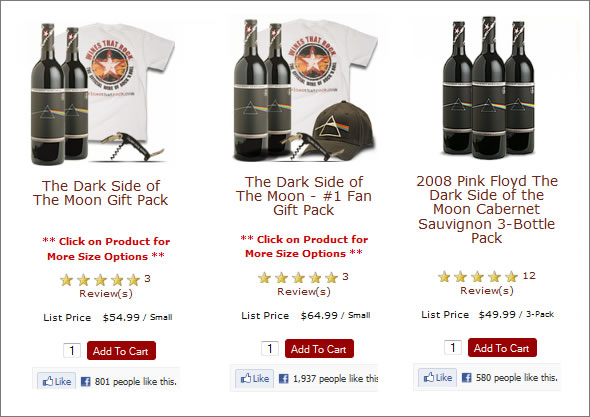 4. Approach Happy Customers
Personally ask customers for reviews, be honest and tell them you'd love it they shared their experience with others, in order to help others make better decisions about purchasing your wine. Happy customers are almost always willing to oblige.
5. Just Ask
Tell your customers to review your wine. Capture their attention on your site by making use of call-outs and badges that say "Review this Wine" or "Tell us what you think." Here's a creative call-out example from an Australian online store, Big Brown Box.

6. Something New
Give them a reason to review your wine, with interesting unique selling propositions, new wine releases, or something that could spark discussion/debate.
7. Keep it Simple
Ensure customers can easily see where to rate and review your products and ensure that it can be done within a few clicks. While you may have included reviews and social media widgets on your site, is it really driving interaction? Consider some of these ideas to bump up conversion and allow your customers to interact with your products.
~
Were there any ideas that I missed? What review-gathering method(s) have worked best for you so far? Don't be shy, leave your comments below.
Previous posts on customer reviews:
Reviews and Ratings Sell More Wine Online