Email marketing is an effective way to reach your customers and drive them to your website. Emails have been around for a long time because they are such a powerful tool. Did you have a busy Saturday in the tasting room? Visitors came to your tasting room and bought some wine. How many email addresses did you capture? Make sure you send those visitors an email and retain them as a customer. The best emails will thank them for visiting, asks them to rate the wine they bought and (bonus points!) gets them to purchase again – this time from your online store.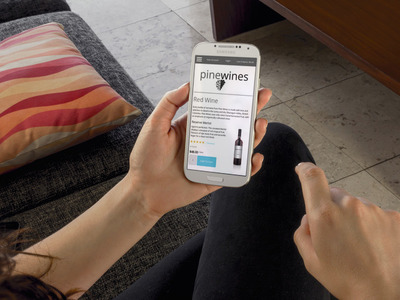 You're lucky. The wine industry is unique because people love wine. They love the experience of learning about it, the story behind it, talking about it, giving it as a gift, or stocking up their own collection. They actually want to hear from you - especially if you have something to offer them.
After all, passion for wine drove each and every one of you into this business. Extend the story to your customers - and use email as your communication channel, moving them up the permission ladder to a repeat customer.
So - how can you become an email marketing ninja? Follow these three steps and sell more wine!
1. Segment Your Lists
Make it relevant. Wine club members don't want an email about why they should sign up for your wine club. Create segmented lists to craft emails that spark action. You should definitely be sending club members club-only email with access to discounts, shipping incentives, exclusive events and treat them well. They need to know that they have real benefits by being a loyal customer. Remember that any email you send that isn't relevant is considered spam by the recipient.
2. Choose a Clear Call to Action
What do you want the recipients to do with this email? Open it? Click on the learn more button? Add to their cart? Rate the wine they just bought? Become a club member? Whatever a successful call to action looks like for you, make sure it's defined. You now have a segmented list, therefore, you're sending relevant email to everyone. Make the call to action clear and irresistable - and monitor it!
3. Increase Email Frequency
Stay top of mind, but don't be an inbox clogger. What's the magic number, you ask? It depends on your winery, your relationship with the customer and what the call to action is. This goes back to segmenting your list and offering relevant communication. What does a typical morning for you look like? A cup of coffee and about 17 irrelevant emails waiting for you. Make sure your winery email doesn't fall into the irrelevant category!
Don't have time to send emails? Activate action emails and let your platform do the work. Vin65 has set up action emails for cart abandonment, rating your wine, thanking people for visiting the tasting room and more! You can personalize these and it's a win-win. Keep those potential customers top of mind - or risk being forgotten...