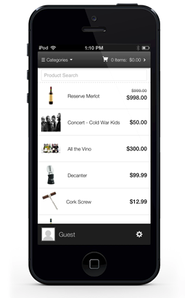 A few months ago Andrew, Brent, and I went up to Tinhorn Creek Vineyards to test our POS system first hand, with real customers. This was an awesome learning experience, we loved what we built, but knew we could go further. We needed to continue breaking the barrier between you and the customer, getting you out from behind the counter.

The traditional POS is restrictive and bulky, comparable to the gym strip you wore in high school. The iPad POS or iPhone POS we like to think is more like yoga pants, they adapt, are flexible, they're sexy.
Sell Wine Anywhere
Continue to make your customers experiences memorable, adapt to what other companies are gravitating towards, companies like Apple, Disney, Guess, and Target are all using mobile POS systems.
A smart phone POS system is the perfect device for a winery's tasting room setup. It doesn't depend on wifi and can be used either behind the tasting bar, or anywhere you interact with your customers. The wine industry is especially perfect for a mobile POS as wineries often have off site tastings, outdoor concerts, and events.
Get out from behind the counter, break the barrier, our iPad and iPhone POS help you achieve that.
Empower Your Staff
Help your staff develop relationships between them and the customers, let the technology be secondary to the transaction. Going mobile enables them to interact, and use something they are already familiar with. This allows them to be more productive throughout their day and in turn sell more wine.
Empower your staff with a fresh and exciting technology, let them enjoy the devices they are using. Push aside the High school gym strip and give them some fresh new Yoga pants.
Get Up and Ready in No Time
Adding a new iPhone POS device to your roster is about as easy as getting Angry Birds, just download it from the app store, and log in.
If you don't own an iPhone the great thing is, iPods are inexpensive, portable, and lightweight.
The iPods run any application that your iPhone runs, they work perfectly on wi-fi networks.
Having a few of these around your tasting room takes up little to no space and more importantly allows your employees to walk around with them, liberating your staff from fixed stops so they can meet customers anywhere.
~~
Break the barrier between you and your customer, focus on what your customer wants, and free up time for that interaction not the transaction.
Are you interested in adding the Vin65 iPhone POS into your tool-kit? Get more information here.