In my last blog post "The Experience" I talked about how winery websites face the challenge of sharing a persuasive experience on their website, or share the essence of the winery and wine.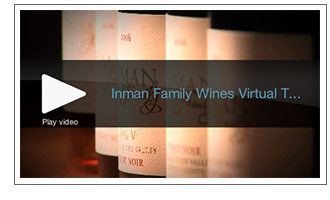 I just wanted to point out a great way to enhance the connection between your winery and visitors to your web site, which is video tasting notes or messages from the wine maker and/or wine owner.
I thought this was really powerful for a couple of reasons:
Builds a personal connection between the people in your winery and your customers. Faces matter more than you think
Although people can't taste and smell wine on your site, seeing and hearing someone doing that might just want to make them come and try it out.
Visitors are more likely to watch someone talk about wine than read a couple paragraphs about it.
Videos are really easy to share.
Here are some great examples:
Inman Family Wines: Video message from Winemaker/Owner Kathleen Inman
Ceja Vineyards: Tasting notes on every wine, here is an example.
If you are thinking about adding videos to your wine website there are lots of ways to get out there from doing it yourself which is totally acceptable in today's social media scene, or go pro - Artisan Media specializes in digital marketing for wine.