I can't tell you how many times I've been asked the same question, " What is the ROI of social media?" You may have even asked it yourself. The problem with this question is that it is inherently flawed. ROI means Return On Investment and does not always directly relate to a correlation in sales. For example, if you advertise in the Wine Spectator and on Google for the same cost, but get ten times the result with Google, you get a better ROI from Google advertising. Likewise, it is also good ROI if you save time and money on customer service with Twitter as opposed to phone service. Most importantly, there is always ROI in talking with your customers. You would never ignore emails or phone calls from customers, so start thinking of social media as just another channel where customers connect with you.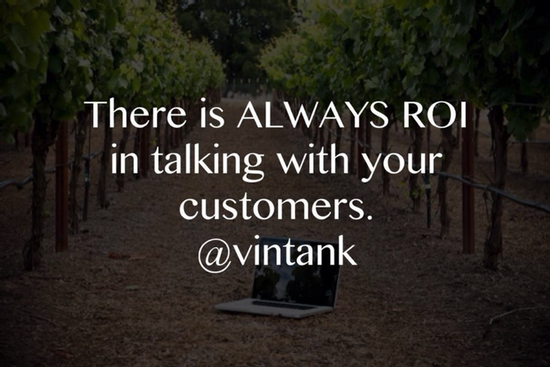 That being said, we can fundamentally understand the source of the question, "How does social media affect wine sales?". This is one of the key questions when trying to provide a true 360 degree view of your customers.
The first step in the process is appending your customer records with social profiles so that you can better understand who they are, what they say, and how they interact with your brand. Second, is displaying the lifetime value of customers that are on social media and how their average order relates to non-social customers. Here is a screenshot of a VinTank report for Vin65 customers: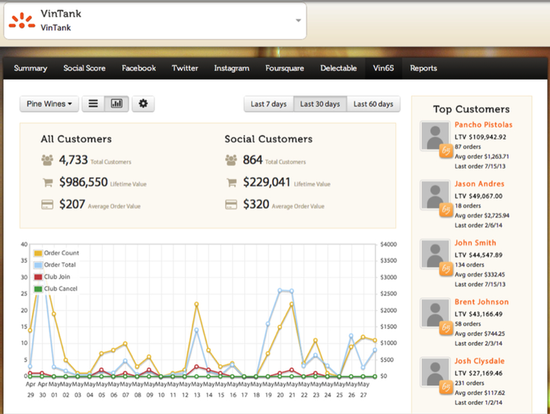 This once and for all answers the question, "Are my wine purchasing customers using social media?". Over the past few years things have really changed, but we haven't kept up. 44% of customers media consumption is digital, however, the 2014 Federal Trade Commission Report stated that only 7.9% of marketing dollars are spent on digital.
The wine industry needs to focus on the mobile world. As much as 28% of website traffic is from users on a mobile device. These customers are not second class citizens and should have just as good an experience as when they come from their desktop computer, laptop, or tablet.
Source: http://www.slideshare.net/kleinerperkins/kpcb-internet-trends-2013
Every day there are organic conversations about wine. There are 450,000 new people talking about wine on social media every month. Customers are out there, you just need to be listening and respond to them, just like you would if they sent you an email or called your tasting room.
This is truly an exciting time in customer relations. At the end of the day, it shows how social media relates to direct sales. These numbers can finally be analyzed and quantified. There is no Bigfoot, just bigger ways to interact with your customers and sell more wine.
About the Author:
Paul Mabray has been in the wine and spirits industry for over twenty years and is the Chief Strategy Officer & founder of VinTank, a wine specific social media monitoring platform.