This week we enhanced our List Builder® tool to include two new features that we think are very cool. These were features requested by clients and we liked their thinking.
Feature 1: is NOT
What is this??? This feature allow clients to create a more powerful and targeted lists by excluding groups. Here is an example of where you might use this. What if you wanted to find everyone who has bought from your store, but isn't a newsletter subscriber, now you can.
Feature 2: Location specific parameter
Now you can search for members in a specific area by entering a zip code or postal code and then specifying a distance from that zip code. This is a great tool if you are hosting an event and want to invite everyone from that area. Another great way to use this tool is if your wine has been picked up in a restaurant or wine store, you can then email your members in that area and let them know that a local store or restaurant now carries your wines.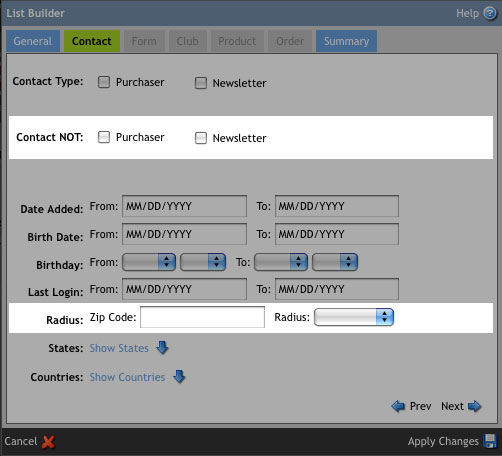 If you have any questions about our winery ecommerce platform, or would like to see a demo give us a call at 604-852-8140 or send Brent an email.