Great web pages don't just happen, they require a lot of thought and planning. What makes the page below great are five specific things.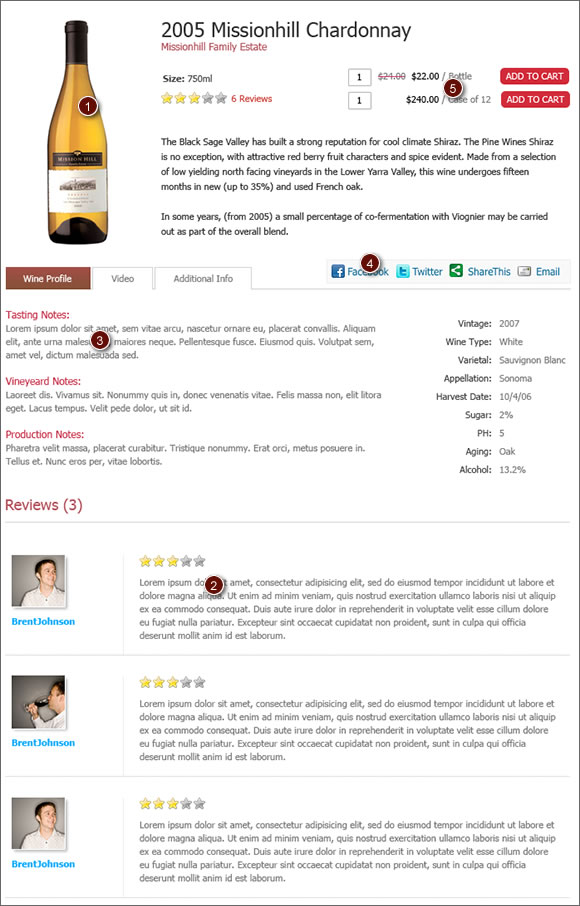 1) Great Photography
I won't debate bottle vs label images, but every great wine page needs great photography.
People make assumptions about your wine based on how it looks. It doesn't take a professional photographer to notice a picture looks cheap, home made, and poorly done.
High resolution, high quality images will increase your perceived brand value, and high quality photos will increase sales conversion.
PS. I feel bottle shots are better than label shots.
2) Consumer Ratings and Reviews
Consumer ratings and reviews are universally acknowledged as having a significant impact on e-commerce. Study after study has linked consumer review to increased sales.
Your customers want to not only know what professionals think of your wine, they want to know what average people think of your wine.
3) Product Detail (Lots of It)
You may not be methodical (and I prefer to skim rather than read) but a large part of the population is methodical. They prefer to read in detail about your wine, how it was made, all of the content, etc. They make informed decisions and favor a logical approach in data presentation.
Also your search engine marketing team will appreciate extra detail.
4) Social Media Widgets
The return on investment is still out on adding social media widgets (such as tweet this, share this, and other social media widgets) to your page, but we believe that social media does have a positive return.
While there are an overwhelming amount of social widgets we feel that you should at least have facebook and twitter on each product page (If you're one of our clients, ask us about our new social media bar which includes these widgets for every wine page).
5) Ecommerce
Last but not least is the entire ecommerce piece on your wine page that plays an important part. Pricing and incentives should be clear. The 'add to cart' button should have high contrast. If you have a 'quantity' field it should be pre-populated.
We prefer to put the 'Add to Cart' button near the top of the page. This is to accommodate both people who prefer to make faster decisions, and people who are more methodical.
~~
What do you feel belongs on your wine pages?