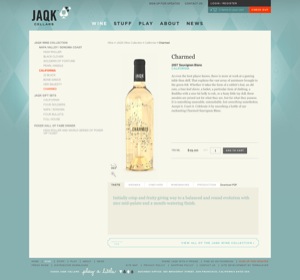 As an owner of a wine web site one of the biggest challenges you will face is conveying "The Experience" of your winery, facility, vineyard, and wines. At Vin 65 we often get asked to capture as much of the atmosphere of the winery in the design of the web site as possible. We use all kinds of things like flash and photos to give the visitor to the web site as much as we can.

At Vin 65 we have lots of fun ideas, some are really out there. My current personal favourite is offering an online tasting pack. The purpose is give a visitor the option to have a virtual tasting room experience. In a tasting room there is a $10 fee or something to taste some wine and then you get a credit towards your purchase. So why not built a tasting pack around 6 small bottles that are like 200ml or 150ml each and send it out for $25.00 or something with a $20.00 coupon towards their next purchase?


In this way you can give someone the option to try and savour some of your amazing wine if they can't get out to your winery for a tasting. It allows potential direct to trade customers to sample without spending hundreds of dollars. Getting out to the winery is the best, but if someone back East can't make it out this year for your new vintages, give them an option. How are you going to capture new customers or give your current fans a vehicle to send their friends a cool tasting gift.


Anyway, back to the main point of the post and that is sharing what your are all about on the web site, as limiting as a web site is. One thing you never see is a 360 view of your wine bottle. Now, hardly anyone does this, maybe because the impact just wouldn't be worth effort. I saw it for the first time the other day and was shocked how much more impact it had than I thought was possible. It looks really impressed on silk screened labels, but works on any bottle. Take a look at JAQK Cellars - and click the 360 view on the drilldown page. I like it - a lot, I feel like I am experiencing that bottle of wine as much as I can with out opening it.