Its 2011, but a lot of websites I visit still feel like they are in 2008. So here it is, David Letterman style with Wayne's World graphic (for the really retro), the Top 10 Signs Your Winery Website is Stuck in 2008.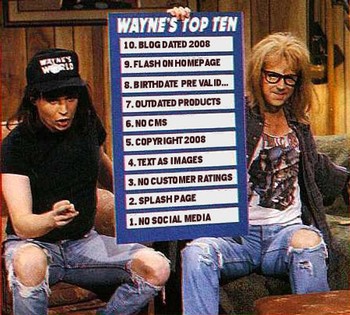 10. Your last blog post is dated 2008.
In 2008 you were so innovative that you jumped on the blogging band wagon. Blogging was everywhere and you wanted to take part. Unfortunately your enthusiasm died after about 8 blog posts. If your blog hasn't been updated since 2008, it's time to remove the blog from your website.

9. Flash on the homepage with no alternative.
Flash animations used to be cool. What better way to express your story? Unfortunately, people got sick of flash intros and have turned flash off. People on the iPad can't see your flash. Mobile visitors usually don't have flash installed, nor do they want to wait for it to load. If you have flash on your homepage, serve up an alternative, or look to some javascript technology to replace it, or better yet, don't do it.


8. You have birthdate validation on entry.
Birthdate validation on site entry is a visitor turn off (and consumers often enter false dates until they get to the checkout process).
There are so many reasons not to do birthdate validation on site entry that I could write a blog post on it - but consider this - the major wine retailers (wine.com, winelibrary.com, winetasting.com, etc) all don't have it and I know first hand the amount of testing that goes on at winetasting.com.
We do not condone selling alcohol to minors, and believe that birthdate validation should be done on checkout, and ID verification on package delivery.


7. Your product pages don't have your recent vintages and/or contain vintages you no longer have available.
There is nothing more frustrating than seeing out of date product content on a website. It's not only frustrating to customers; it also frustrates your distributors, trade people, and bloggers who all want current images and tasting notes.


6. You're not using a Content Management System
If you have to pay your web designer to update products and other content you are out of date (truthfully you were out of date in 2008 also). It's vitally important for you to be able to update your own content, and content management systems are very mature and pretty much a commodity.


5. Copyright notice still says 2008.
Your visitors know you stuck in 2008 when your copyright still says 2008. If your content is out of date and stale, people won't keep returning to your site.


4. Your heading text is images
The last few years have brought great technology for fonts on the web. It's important that your heading text be text rather than images - important for search engines, for bandwidth, and just for general ease of maintenance.


3. No customer ratings or reviews.
In 1999 Amazon stated that the 2.5 million reviews it featured are what made it popular. We've known for years that customer ratings and reviews help sell products. In 2009 Wine.com revealed that products with reviews sold more. If you don't have customer ratings and reviews, your site is 2008.


2. You have a splash page.
Splash pages were out in 2008 but I still see them. A splash page does nothing for you other than give a customer a reason to not visit your homepage.


1. No mention of social media anywhere
And the number one sign your website is stuck in 2008 - no mention of social media anywhere. The last couple of years we've seen a large uptick in social media activity. Facebook with over 500 million users is mainstream. If you don't at least have a Facebook link on your website, you might be stuck in 2008.
~~
And to continue our Top 10 list, here are the Top 10 Signs Your Website Is Stuck In 1998 courtesy of my colleagues.
10. Your web address has the word geocities in it
9. Free hosting ads on your website
8. You have a 'make this your homepage' button on your website
7. You have a 'best viewed in Internet Explorer' button
6. Under construction page
5. Your neighbour's high school son built your web page
4. The fixed width is designed for 800x600
3. Your site is built in frames
2. Auto playing music
1. Animated gif images
~~
What signs have you seen that still point to 2008?