POS stands for Point of Sale – and Mobile POS is not having your customers or staff tied to a cash register in the tasting room, or anywhere else you are selling your wines direct to consumer. Apple has offered this convenience for its customers for a while, but now that mainstream retailers like Starbucks, Walmart, Target and Best Buy are in the mix, customers will stop seeing this as an oddity and expect it.
If that's not enough of a reason to consider adding mobile POS to your bag of tricks this year, here are five more benefits:
1. Increased Sales
The goal of any mobile POS is to make the purchasing process as easy and as "automatic" as possible for the consumer. A new study by Deloitte shows that by 2016, retail mobile shopping could account for up to 21% of that retailer's in-store sales. As technology is advancing, our patience is shrinking. Don't lose sales by forcing your consumers to wait in-line or at events.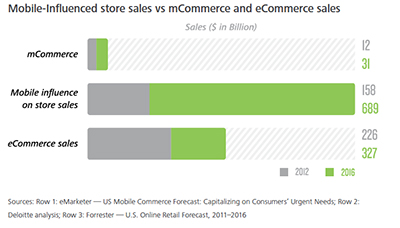 2. Employees Are More Productive
Employees can do more with mobile tools, which makes them happy and lowers your labor costs. A tasting room employee, for example, can save considerable legwork with fewer trips behind the bar or cash register. In general, mobile POS systems are increasingly decentralizing the actual point at which sales take place, minimizing wasted time and eliminating unnecessary paperwork. According to a recent RIS Survey, "The Mobile POS Effect", 21.4 percent of retailers plan to remove five or more traditional fixed station POS units per store and replace them with mobile POS and 55.2 percent of retailers have plans to deploy one or two mobile POS devices per store immediately.
3. Increase Accuracy and Customer Service
Standards vary by industry, but it is estimated that between .5 - 3% of all customer data entered is inaccurate. That's costing you sales. But, with mobile POS you eliminate the need for written shipping or event orders. So, accuracy is increased and customers enjoy faster and error-free detailed receipts on the spot. Furthermore, when using a single customer database, you avoid duplicate records, and provide your staff a full view of the customer profile (such as life-time value, favorite products and club memberships) to assist in customer service.
4. Easier Reporting and Security
Look for an integrated mobile POS system that delivers one product/order/customer database between POS, website, Facebook app, mobile site, and iPad tasting room app. In this way you can sell wine out of one inventory and pick it up from another, reducing the need for hand-written inventory transfers. It is also important to ensure the database is secure and PCI compliant, so with one swipe, a credit card number is encrypted and stored. With an integrated and secure database, sales reporting (including sales by date, state, customer, category, SKU, sales detail reporting and sales graphs) are all in one database and easy to access.
5. Customer Engagement

But what does all this really mean for your customers? It means more time to spend with them, discussing your wine, showing them your winery, or meeting their friends. When the administrative and sales tasks are automated for your employees – more sales and happier customers will result.